Coming Clean Publishes First Ever GreenScreen on a Nanomaterial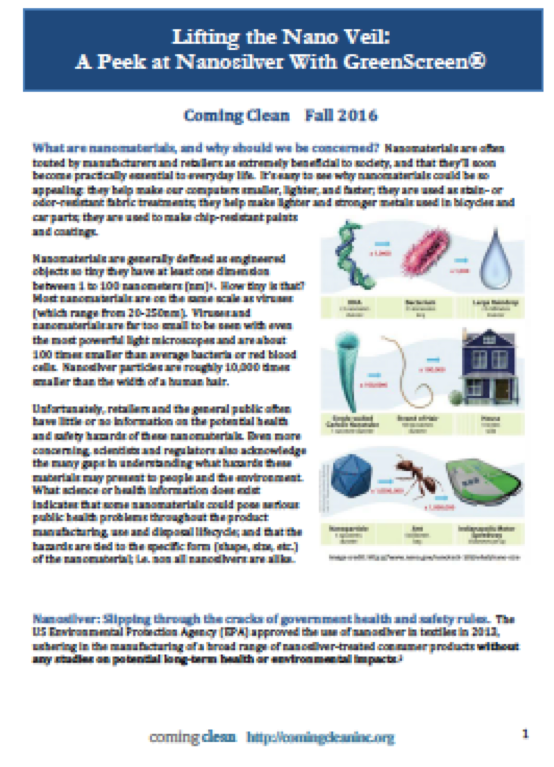 Coming Clean have for the first time applied an off-the-shelf chemical hazard assessment tool - the GreenScreen for Safer Chemicals - to a nanomaterial, namely Nanosilver. The work and findings was published in the peer reviewed journal Environmental Health (download for free http://ehjournal.biomedcentral.com/articles/10.1186/s12940-016-0188-y).
It is found that conventional silver and low-soluble nanosilver were assigned the highest possible hazard score. A silica-silver nanocomposite called AGS-20 could not be scored due to data gaps, although it is approved for use as antimicrobials by the US Environmental Protection Agency.
Coming Clean conclude that GreenScreen can be used – with minor adaptations– to compare hazards across conventional and nanoforms of a substance. The differences in data gaps and in hazard profiles support the argument that each silver form should be considered unique and subjected to hazard assessment to inform regulatory decisions and decisions about product design and development. A critical limitation of hazard assessments for nanomaterials is the lack of nano-specific hazard data.
A Coming Clean popular factsheet "Lifting the Nano Veil" on the findings is also available at http://comingcleaninc.org/assets/media/documents/GS%20nanosilver%20factsheet%20final.pdf.