New nanofood database relies on The Nanodatabase and finds more than 300 products common food products entail nanomaterials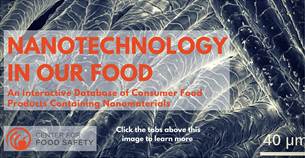 The Center for Food Safety (CFS) in the USA has just released a new searchable database of consumer food products that contain nanotechnology. One of the sources is The Nanodatabase.
The database contains almost 300 food products and food contact products that use "nano" spaning more than 40 different materials.
See the new database at http://salsa3.salsalabs.com/o/1881/p/salsa/web/common/public/content?content_item_KEY=14112 and read nanowerk's article about it: http://www.nanowerk.com/nanotechnology-news/newsid=41532.php